XMAS :)
Posted at Friday, December 25, 2009 ; 2:54 PM |
1 comments

first,,


M

E

RR

Y

C

H

R

I

S

T

M

AS

!
haha , will be going to church later with my daddy and imouto :)
i know it'll be 2++ hours with nothing to do except sitting there.
but i think its a must since me , my dad & lil sister is a catholic.
my lil brother got go to church this morning with his friends alredy O:
anyway, sorry for inactive-ing lately. :(
i am busy with some other thing again , D:
will update more if possible ,, cause this computer also shared.
my lil brother's friend always come here to play also ):
and i know its impossible , but i wish i got a present this xmas. X:
i hope santa do really exist in this
*hurting and sad*
reality ! >(
then he
MUST
come to my house give me lots of presents ! X: X:
hope he will give me a digimon ! :B i wan guilmon / agumon .. :B
oh , and , these are gifts and awards i found out today ..
from SHIMIN's SOTM :)



from MAVIS <3



from ELYANA <3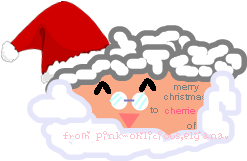 from YUKIKO :D

and that's all for now. :D
thanks alot to MAVIS and ELYANA ^^
Labels: ♥ th_LIFE ♥, stuffs♥